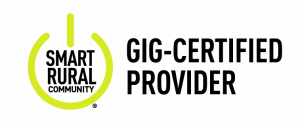 WE NOW OFFER SPEEDS AS FAST AS 1 GIG!
Madison Communications is pleased to announce that we are now offering Internet Speeds as fast as 1 GIG!
If your family loves to play interactive data-hungry video games, while simultaneously downloading the newest apps on your smartphone, connecting to multiple home security or smart home devices, stream HD movies and are running a small business out of your home… Gigabit Internet is likely the best fit for your home's needs.
Upgrading our network to offer Gigabit speeds has been silently progressing for quite some time and our employees have been working diligently to install new, state-of-the-art facilities, hardware and software that will provide reliable Gigabit Broadband Internet to our local customers throughout our service areas.
When you become a Madison Internet customer, you become a part of our extensive fiber-based network; which comes with several added benefits. Fiber Internet provides super-fast and reliable internet service that can increases property value and provide opportunities for economic growth and community development.
Along with the benefits of fiber-based Internet, when you choose Madison, you are also supporting a local-family owned business that has been around since 1940. We are very proud to be officially named a "GIG Certified Provider", by the NTCA – Rural Broadband Association. What does that mean you may ask? The NTCA – Rural Broadband Association nationally recognized Madison with the Smart Rural Community award and continues to encourage rural areas to invest and deploy in advanced fiber technology to future proof the growing demands for upgrading internet speed that benefit local customers and sustain the viability of our rural communities.
Madison continues to remain a proud partner in the economic vitality of our rural communities.  We proudly call our rural areas home and maintain a pristine focus on providing the fast and reliable internet service needed. Madison has invested millions of dollars into our local communities through fiber builds, expanding employment opportunities, and serving critical education and healthcare partners.  We recognize that supporting our communities goes beyond being a service provider.  We continue to grow our presence through corporate donations, employee volunteerism and local employment opportunities while making sure our customers can remain local, but globally connected.
Support Local and Go Madison today! You will enjoy higher speeds at lower rates, no contracts, a local business that supports the local communities, quality driven employees, and superior customer service! For more information on their new speeds available call 800-422-4848.